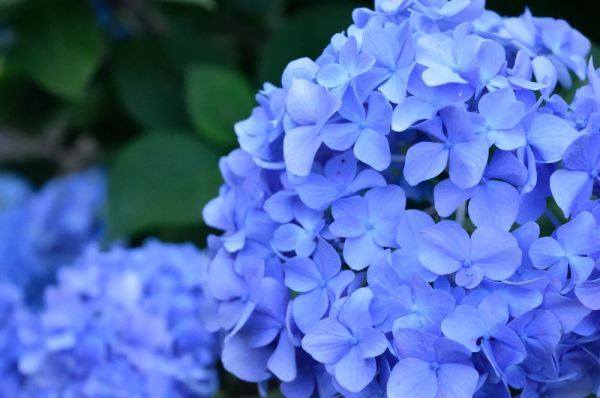 Easily avoid these Hydrangea care mistakes and ensure your Hydrangeas all thrive for a long time, whether they are in a pot or a garden border. Hydrangeas are one of the most well known, recognised and popular garden plants. They come in colour ranges from acidic blue to white, baby pink and vibrant pink varieties that really stand out. There are so many varieties available to choose from that there is most definitely one for every taste. Along with our tips below, here are a few varieties that we love:
Favourite Hydrangea varieties
Hydrangea paniculata 'Vanilla Fraise'
Hydrangea macrophylla 'Bavaria'
Hydrangea arborescens 'Annabelle'
Hydrangea quercifolia 'Snow Queen'
Hydrangea macrophylla 'Glam Rock'
Here is how to avoid Hydrangea care mistakes
Aspect:
Don't plant them in full sun. Hydrangeas aren't particularly happy in full sun if the soil is dry. They will grow in full sun, but you will need to make sure they don't dry out and get stressed. Ideally, planting them in dappled/part shade is the best position for them, even full shade with moist conditions. Morning sun is better than afternoon sun, so find the perfect spot for your Hydrangeas according to the shade in your garden.
pH:
Please don't assume they will keep their colour. The pH of your soil can alter the colour of your Hydrangeas. For example, if you buy a blue variety and plant it neutral to alkaline pH soil, you will find the colour will change, and you may wonder why! To keep the blue Hydrangeas a stunning blue, plant them in acidic soil or a pot with ericaceous compost.
Pruning:
Don't snip away without knowing which type you are growing. Hydrangeas are hardy, deciduous shrubs. Some can even climb, and others will stay small. With so many different types, make sure you read the label to know which one you are choosing. There are various pruning methods according to the type you have. Here are some common
Hydrangea pruning mistakes explained
Hydrangea macrophylla and Hydrangea serrata can be pruned during springtime. However, their flowers are produced on old wood, so if you prune them back too hard, the flowers for summer will be lost.
Hydrangea paniculata and Hydrangea aborescens can be cut back in the springtime. They can be left unpruned but do get tall with flowers mostly at the top. They can be cut back hard without affecting this year's flowers.
Hydrangea aspera and Hydrangea quercifolia can be lightly pruned in spring by removing old, crossing stems and old flower heads.
Hydrangea petiolaris can be pruned after flowering during the summer months. Cut back the shoots that have flowered to a pair of new buds.
Hydrangeas are stunning garden plants and also provide lots of food and shelter for garden wildlife. There is a Hydrangea for every garden.
We have a range of Hydrangeas and other garden shrubs for your garden in store. Hydrangeas are easy garden plants if you take care of them the right way. At our garden centre, we have all kind of professionals that walk around to give you the best advice on Hydrangea caring. We look forward to welcoming you to our garden centre.