About us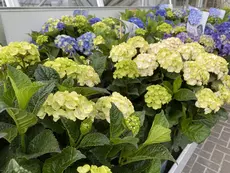 Birchen Grove Garden Centre is one of North Londons hidden gems. Surrounded by woodland and located right next to the beautiful Welsh Harp nature reserve, you could be forgiven for thinking you were in the heart of the countryside. But, in fact you are just 5 minutes drive from the new Wembley Stadium, Brent Cross Shopping Centre and the North Circular Road. Plus there are 250 free parking places! Having been established for ten years, Birchen Grove Centre is the largest garden centre in Greater London and it carries an unrivaled stock of indoor and outdoor plants, garden furniture, equipment and garden sundries!
Our range of plants is astounding with everything from seeds and summer annuals to shrubs and even fully mature trees for an instant garden.

With stunning displays of plants throughout the year you can enjoy a stroll around the outdoor plant area even if you are not particularly green-fingered.
Inside the enormous covered sales area, we stock tools and equipment for every conceivable garden job, as well as all the sundries, sprays, plant and lawn food you could ever need. With such a huge amount of choice available, it can be easy to feel a bit overwhelmed, but Birchen Grove Garden Centres knowledgeable and enthusiastic staff are always on hand to help. We will be happy to answer your horticultural queries and they can offer advice on all aspects of garden care, plants and equipment.
Birchen Grove's sales team will be able to offer advice on the best drought resistant plants and methods to protect existing plants. The greenhouse philosophy is simple. We believe that living plants are beautiful and a source of fascination and aim to provide the means for all their customers to stylishly decorate their room, balcony, garden or patio with plants. We also believe that living in an environment enriched with plants makes people happier by providing a link with nature. Their is nothing nicer than to get outside and enjoy eating al fresco. Naturally, Birchen Grove Garden Centre has this covered with barbecues of all shapes and sizes, from the simple small charcoal variety to the biggest gas powered outdoor cooking range for the really serious barbecue chef.