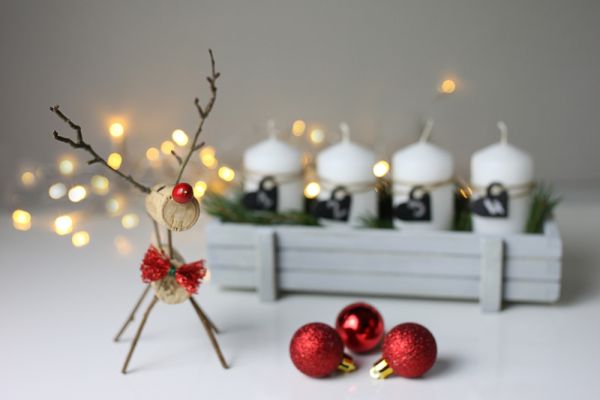 Add your own personal touch to the festive season this year by making your own Christmas decorations. It's inexpensive and fun to do, and the results look fabulous! To get you started, we've put together some of our favourite ideas for DIY Christmas decorations.
10 tips on making your own Christmas decorations
Make a star for the top of your Christmas tree out of wooden clothes pegs. Remove the spring from each peg and glue the two halves of the peg together back to back, so that the flat sides are touching. Then glue the pegs together by their rounded ends to form a star, and add a loop to hang your star on your tree.

To make a felt snowman, cut rounded shapes out of white felt to make the head and body, then snip buttons and eyes out of black felt and glue them on. Cut a carrot nose out of orange felt, and use a wooden ice lolly stick as a base to glue your snowman too. Add some twig arms, and a loop of thread at the top to hang it from, and your snowman decoration is ready.

Dried citrus slices make beautiful tree decorations. Slice oranges and place on a baking tray in an oven on low heat (around 120ºC/250ºF) for three hours to dry. Turn the slices halfway through the cooking time. Once dry, poke a hole in the top of each slice, thread twine through to make a loop, and hang on your tree.

Tie bundles of cinnamon sticks together with decorative ribbon or string to make an unusual scented ornament.

Decorate your tree with hanging Christmas reindeer ornaments. Use a wine cork for the reindeer head and attach pipe cleaners for antlers, plus a pair of googly eyes and a bright red bead for a nose.

When you're out walking, look out for interesting fallen branches. Spray them white, then place them in a vase and decorate them with hanging ornaments for a minimalist take on the traditional Christmas tree.

If you have too many baubles for your tree, use them to fill jam jars, then place the jars on coffee tables, shelves and mantelpieces to add festive cheer to every room in the house.

Make old-fashioned pomanders by pressing cloves into oranges and hanging them up to fill your house with spicy fragrance as they dry.

Pinecones make beautiful decorations. Spray them silver or keep them natural, and glue them together to make wreaths or use them as hanging ornaments on your tree.

Some decorations are literally good enough to eat. Gingerbread people are fun to make and even more fun to nibble as you're opening presents under the tree on Christmas day.
Buy everything you need in our garden centre
At our garden centre in London, you find everything you need for a sparkling Christmas this year. Visit our centre and supply yourself with the most stunning pieces. If you need some new ideas for your Christmas decor this year, come and visit our centre where our range of beautiful decorations is sure to inspire you.