Welcome to Birchen Grove Garden Centre NW9
Birchen Grove Garden Centre NW9 (formerly The Greenhouse Garden Centre) is one of London's hidden gems. Surrounded by woodland and located right next to the beautiful Welsh Harp Nature Reserve, you could be forgiven for thinking you were in the heart of the countryside. But, in fact you are just 5 minutes away from Wembley Stadium, Brent Cross Shopping Centre and the North Circular Road. Plus there are 250 free parking spaces! Having been established for 10 years, the Birchen Grove Garden Centre is the largest garden centre in Greater London and carries an unrivalled stock of Indoor and Outdoor Plants, Garden Furniture, Barbecues, Tools, Garden Sundries and much more!
PLANT OF THE WEEK: RHODODENDRON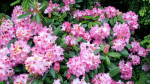 The shadiest corner of your garden becomes the highlight of your spring display when you plant a rhododendron – probably the most brilliantly-coloured of all the early-flowering shrubs with masses of sumptuous blooms in every hue from deepest scarlet to magenta pink.
All varieties of rhododendron like a moist, acidic soil and dappled shade, where they'll make a sizeable and very showy shrub in time. If space is limited, or you garden on neutral or chalky soil, don't worry: you can still enjoy rhodies. Just choose a compact variety bred to thrive in containers filled with ericaceous (acidic) compost for an equally spectacular display each spring.
Sowing annuals
Most half-hardy (or tender) annuals may be sown now ; if you have a greenhouse or conservatory in which to keep them. Sown too early, and the plant become leggy in their search for light, making them grow into poor specimens, and no good for planting out at the appropriate time (after the frosts in late May or early June). You can sow marigolds, ageratum, stocks, tobacco plants and masses of others ; see what's on the seed racks at the garden centre!